DETAIL
【All-you-can-drink 2-hour all you can drink】 Please use conveniently ♪ Beer is OK! Standard Top Plan ☆ 1700 yen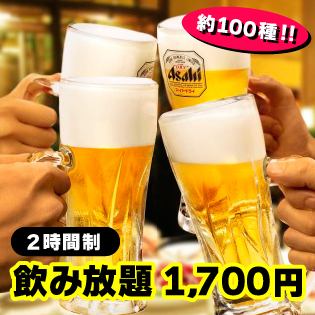 By using a coupon1700 yen
Tax excluded
All-you-can-drink available

【All-you-can-drink 2-hour all you can drink】 Standard plan ☆ 1700 yen (LO 30 minutes ago)
Reservation deadline

Coming to the store until the desired date of the day 17
♪ relieved even for a sudden drinking party ♪ beer is OK! You can choose from over 100 different drinks you can choose Standard drinks ♪
Course menu
※ The photograph is an image
All-you-can-drink menu
Beer shochu liquor
· Draft beer (clear asahi) (shochu) potato · wheat · rice (water split / hot water split / soda split) sake
·Fruit wine
- Apricot lychee peach grape plum wine yuzu lemon liquor, etc. (please lock / soda of your choice)
· Sake High Sour
- Oolong high green tea High tea High Jasmine high Calpis grape Calpis Peach Calpis Peach grape yuzu lemon grapefruit, etc.
Wine whiskey
· (Wine) red, white (whiskey) lock whiskey and water, soda
·Highball
High ball Ginger highball Coke highball Yuzu highball
·Cocktail
Jin / vodka / cassis / lychee / peach / mango / strawberry / apricot / banana / beer such as 100 or more
·Soft drink
· Oolong tea / tea / green tea / jasmine tea / Calpis / orange juice / grapefruit juice / cola / ginger ale
· With + 500 yen (tax excluded) ⇒ Premium all-you-can-drink!
· Asahi Super Dry, Bottled Beer and Black Kirishima, Kuroba and other brands of Shochu · Brand name Japanese sake can be added to all you can drink!
Coupon that can be used
☆ Anniversary · Birthday ☆
Attach your favorite message ♪
Special dessert plate Usually 1080 yen → Free ♪

Presentation conditions

At the time of booking

Conditions of use

Message to be put at the time of reservation, please inform delivery time / need reservation / other coupon can not be used together

Expiration date

Until the end of June, 2018
2018/05/17 update